My Book Pick: The Biograph Girl
My book pick for January is William J. Mann's The Biograph Girl (Kensington Books, 2000). A pen-friend (or should I say a computer-keyboard friend) from Australia, Peter Bastian – knowing my fascination with Hollywood film history – recommended this to me. Already a fan of William Mann's movie star biographies (Wisecracker: The Life and Times of William Haines, Kate: The Woman Who Was Hepburn), I fell into this heady mixture of fact and fiction and barely came up for air before finishing its 457 pages.
The core of Mann's novel is the real-life saga of Florence Lawrence, a child star on the Vaudeville stage at the turn of the last century ("Baby Flo, The Child Wonder Whistler") who became one of the first recognizable screen stars as film was just beginning to find its feet. Early movie producers at first felt it was in their best interest not to let the public know the names of the actors in their pictures (who knows? – they might ask for increased salaries) but the viewing public began to clamor for not only the name of the beautiful young woman appearing in so many movies, but for every detail about her life. Movie mogul Carl Laemmle even cooked up a fake death story to ramp up interest. The symbiotic relationship of "movie star" and "movie fan" came into being and Florence Lawrence found herself blinded by the flashbulbs of newshounds and mobbed by her admirers.
In Hollywood the cliché of the star who rises to dizzying heights and then plummets to dismal depths is sometimes true – and it was certainly true with Florence Lawrence. A fragile Lawrence found herself not only dealing with the unsettling mania of stardom but a number of failed relationships as well — and doubts about where she was headed with her life. She disappeared from the screen and then returned as a bit player in MGM movies of the 1930s. Shortly after Christmas in 1938, she committed suicide by ingesting ant poison.
But Mann, in his novel, uses the power of the written word to bring her back to life. What if it wasn't Florence Lawrence who committed suicide? What if it was a housemate of hers who died and another friend – a doctor who had been one of her fans – falsified the death certificate? What if Florence Lawrence went on to live a full life and, in the early 2000s—at the age of 107, was a star attraction of a different sort in a retirement home? Mann's re-creation of the star is a delightful chain-smoking old woman, quick with the one-liners and ready to tease those intent on sorting out her past with fragments of information that are like jigsaw-puzzle pieces.
The puzzle-sorters are twin brothers, one—Richard–a gay journalist who stumbles on Lawrence's story during a routine assignment and the other—Ben–a film-maker in a stagnant relationship with a New York actress. Ben hasn't had a success since a documentary he created years back fresh out of film-school and a rediscovered Lawrence just might be his ticket for a movie comeback. Into this mix, Mann adds a savvy Nun from the catholic retirement home who is not about to let anyone take advantage of her elderly charge.
Wisely, Mann keeps seeping the real story of Florence Lawrence into the unfolding fictional one. The result is spellbinding from start to finish – and not just for movie fanatics such as myself.

My Movie Pick: I'll See You in My Dreams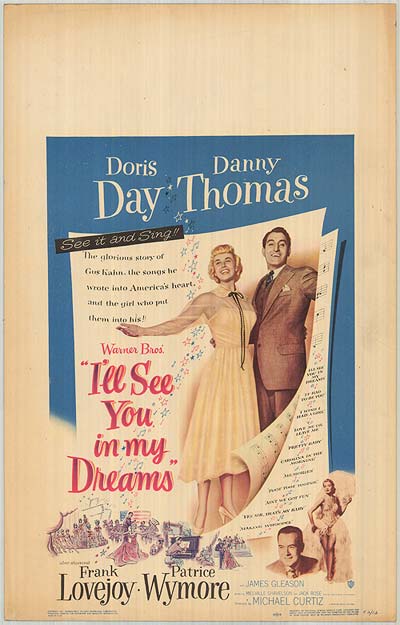 I think it was my love for movies that spawned, for me, a parallel love for the American songbook of tunes from the first half of the 20th century. Annie Get Your Gun introduced me to the boisterous show music and sweet romantic songs of Irving Berlin; I fell in love with Jerome Kern's melodies in Show Boat; Arthur Freed's sassy tunes reprised in Singin' in the Rain had me dancing on our living room furniture when I was twelve. I could go on.
In this vein, a movie I've had a special fondness for over the years is I'll see You in My Dreams, a 1951 Warner Brothers film based loosely on the lives of songwriter Gus Kahn and his wife, Grace LeBoy. Kahn began writing the words for tin pan alley tunes in the 1910s, penned lyrics for Broadway show tunes in the 1920s, and went on to a career in movie musicals in the 1930s. He worked with most of the top popular-music composers of those decades, Al Jolson, Jerome Kern, Vincent Youmans, George and Ira Gershwin – but particularly Walter Donaldson and Isham Jones. His hit songs included "Memories", "Pretty Baby", "Carolina in the Morning", "Toot, Toot, Tootsie", "My Buddy", "It Had to Be You", "Love Me or Leave Me", "Makin' Whoopee", and "I'll See You in My Dreams" – all of which are featured in the movie of Kahn's life.
The film focuses on Grace LeBoy, played by Doris Day, a pianist and singer who wrote the music for some of Kahn's earlier songs. Danny Thomas portrays Kahn, with Warner Brothers' prolific director Michael Curtiz on board. While the result is often sentimental and biopic stereotypes are clearly in place, this is one of those movies in which the elements click and it's a sheer pleasure to view it. Day appears to be relishing the opportunity to play a character a cut above many of the musicals Warners forced her into in the 1950s. Her presentation of several of Kahn's songs gives us a taste of the former band songstress in top form (witness Day crooning "The One I Love" in an audition scene – absolutely beautiful!). And Danny Thomas is a surprise and a delight as the cigar-chomping Kahn. He has a singing voice that is low-key, almost conversational. I was reminded of Harry Nilsson in one of my favourite albums – "A Little Touch of Schmilsson in the Night." Anyway – very nice chemistry between the two leads. Curtiz, despite his reputation as the studio curmudgeon, sensitively helms such scenes as the one in which Kahn, after a night working with the boys in a smoke-filled bar, tenderly picks up his sleepy, pregnant wife and carries her out (and reminds us that Curtiz, in earlier days, directed that most romantic of films – Casablanca).
The supporting cast is also excellent. Perennial housekeeper Mary Wickes is wickedly funny as the Kahn's maid, Anna — handy with a broom and a comeback. Frank Lovejoy portrays party-boy composer Walter Donaldson, looking very comfortable with a drink in one hand and a racing form in the other. Patrice Wymore as a showgirl who wouldn't mind getting her claws into Kahn has a good set of pipes (she sings "Love Me or Leave Me" over the phone to Day who's minding the house in Chicago while her husband is writing tunes for Ziegfeld in the New York). Interestingly, Day – a few years later – would portray singer Ruth Etting in another biopic, Love Me or Leave Me that would garner her an Oscar nomination.
So…get out a bowl of popcorn, pour yourself a drink, sink back in the sofa and enjoy this nostalgic gem. You won't be disappointed.