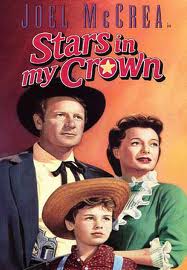 Is it really January since I posted!? Good intentions… The last few months have been particularly busy with writing projects and travel and I now realize that a book and a movie a month may be unrealistic so I'll amend my statement of intention to posting these items when I have a chance.
I've been taping films from the Turner Classic Movies channel–again, to catch up with when I have a chance—and it was a special pleasure to watch a couple featuring Joel McCrae. I own DVDs of Sullivan's Travels and The Palm Beach Story, possibly McCrae's finest comedic turns, and watch them often. Like Gary Cooper and James Stewart, McCrae was able to provide some balance to the antics of screwball comedy—a steady craft moving with sure direction through currents of chaos. In The More the Merrier, one of the films I'd taped to view, he plays an army sergeant drawn into the web of housing advisor Benjamin Dingle (Charles Coburn) determined to match him up with the young woman (Jean Arthur) who has sublet her apartment to him during the Washington wartime housing crisis. McCrae's wide-eyed boyish charm, needless to say, wreaks havoc with Arthur's existing engagement to a prissy bureaucrat. Lots of fun.
But it's the second movie I watched that I'd like to consider in more detail. Stars in My Crown was filmed seven years after The More the Merrier and, in 1950, at forty-five, McCrae had shed his innocent-boy-man comedy roles to become the hero in what would turn out to be a long string of westerns (the last one, Mustang Country, made in 1976). Stars in My Crown, though, while promoted at the time as a western, doesn't fit neatly into the genre. Rather, I would consider it part of what might be called films featuring small-town Americana (in the company of movies such as Thornton Wilder's Our Town, filmed by Sam Wood in 1940 or, for a darker look, Sam Wood's 1942 picture, King's Row). It would be possible to narrow this genre even more to a series of films featuring small-town parsons. I admire Irving Rapper's 1941 picture One Foot in Heaven with Fredric March as a somewhat-blinkered minister and Martha Scott as his long-suffering wife destined to live in decrepit manses; and Henry King's I'd Climb the Highest Mountain (1951) with mellow-voiced Susan Hayward reviewing her life as a parson's wife in Georgia in 1910 (William Lundigan is the preacher).
But if I were to choose a favourite in this sub-genre, it would be Stars in My Crown (directed by Jacques Tourneur). In it, McCrae plays Josiah Grey, a Civil War veteran who is not averse to bringing out his six guns if they will gain him a congregation willing to listen to him. Over time as the town he's tamed grows, he gains a strong foothold with his wife (Ellen Drew) and his adopted son (Dean Stockwell) at his side. Tourneur allows the film to unfold in vignettes that give us glimpses of the townspeople (in general, devoid, of the stereotypes we might expect). A gentle humour plays over many of the scenes—scenes such as McCrae sabotaging his wife's determination to add variety to his hymn selections or the preacher attempting to bring a rowdy family of neighbouring Scandinavians into his fold.
In counterpoint, major sequences of the drama deal with a devastating typhoid epidemic and an attack of the Ku Klux Klan on an aging Negro farmer, Uncle Famous (sensitively played by Juano Hernandez), who refuses to yield his small plot of land to a greedy merchant (Ed Begley) lusting for its mineral rights. Tourneur, the master of subtle horror films such as The Cat People, has a deft touch here. A scene with McCrae reading out Uncle Famous's last will and testament to a lynch crowd ranks right up there with a similar confrontation in To Kill a Mockingbird.
Interestingly, both To Kill a Mockingbird and Stars in My Crown are presented in voice-over by a child relating the incidents in their youth that would shape their lives. Here Marshall Thompson narrates the reminiscences of John, the nephew (talented child-actor Dean Stockwell) adopted by the preacher and his wife. Perhaps, in an increasingly urban world, we can equate small towns of the past to childhood – both its innocence and an early apprehension of the vicissitudes and injustices life may have in store for us.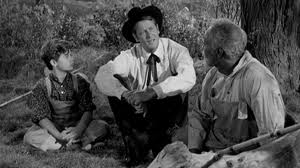 My Book Pick: The Van Gogh Cafe
I haven't read any books since January that made me want to send my fingertips dancing across my computer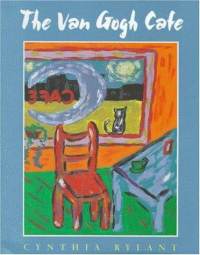 keys. In a recent trip to New York I picked up a copy of Bonfire at the Vanities from a bookseller with a stall right beside Central Park. It's one of those books that I somehow missed when it first came out, but—although it was an interesting read—I was left with that kind of bad taste in my mouth that I've come to expect when I read something inhabited by characters, none of whom I like or can sympathize with. Other than Bonfire, I've been reading biographies of film personalities (these connected to another trip I've taken to Hollywood for this spring's Turner Classic Movies Festival – and a subsequent excursion along the California coast)—interesting with respect to subject matter, stylistically nothing special.
So…browsing through my bookshelves filled with children's literature, I pull out a well-loved copy of Cynthia Rylant's The Van Gogh Café. I find myself returning often to my kidlit collection for a literature fix that affirms, for me, the power of the written word to capture qualities of life that I admire. Rylant, a poet who has an impressive list of children's picture books (for which she's composed the text), is also the author of fiction for middle-grade readers (Missing May won the 1993 Newbery Medal). But The Van Gogh Café defies categorization. With respect to readability, it can be accessed by children in grades three and four, but it speaks to a much wider range of readers—probably anyone who can read. When I was a school consultant in Edmonton, Alberta, I introduced the book to school staffs and more than one used it as a focus for a school-wide theme, drawing classes together to enjoy not only Rylant's prose but art, music, dance and drama that connected to it.
The book begins: The Van Gogh Café sits on Main Street in Flowers, Kansas, and the building it is in was once a theater, which may be the reason for its magic. Anyone who has ever seen anything happen on a stage—anything—knows that a theater is so full of magic that after years and years of opening nights there must be magic enough to last forever in its walls. The Van Gogh Café is lucky it hasn't found itself a building where people perhaps once had their broken arms fixed or their teeth pulled out. Those are not the sort of walls that harbor magic. But theater walls do.
Already, of course, on a first reading I was hooked. Reading on, I was enchanted by the stories linked by magic—of Marc and his daughter Clara setting up the café and the perfect lemon meringue pie that was a by-product of lightning striking the restaurant. The following chapter moves on to the serving of muffins that are magically comforting to a group of pre-schoolers rescued from a bus that has slid off the road and hit a pole during a blizzard. As one story segues into the next we encounter an aging silent film star and, later, a cat and a seagull who bond on the café rooftop. Lovely improbable stories filled with tasty food and poetry and celebrations of life for both people and animals.
If you're feeling a bit weary, treat yourself to a stop at the Van Gogh Café. Who knows what might happen!