Gilead, Home and Lila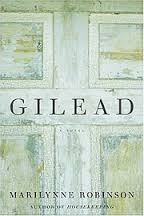 I have spent the last couple of weeks with Marilynne Robinson. Her Gilead trilogy seems to me to be well-suited to lazy summer afternoons and evenings, where I can bask in the southern sun from the deck of our second-story apartment, sometimes nodding off—as the preacher-narrator often does in the first book—but never really minding, quite happy to backtrack over a few paragraphs to pick up a strand. These are thoughtful, slow-paced narratives that dig into character but also chronicle in exacting detail the times and places that shape and often amplify character.
In Gilead (Farrar, Straus & Giroux, 2004), an aging Congregationalist minister, John Ames, writes of his family history and his day-to-day thoughts, hopeful that what he is recording will provide some kind of a presence to his young son, Robert, when his father is gone. Ames is the last in a line of preachers. His grandfather was a firebrand abolitionist who rode with John Brown. A good chunk of the book is a reminiscence of Ames traveling with his father from Iowa to Kansas to visit the grandfather's grave. Ames also reviews the numbing tragedy of the death of his wife in childbirth, along with his newborn daughter. Still difficult for him to believe is how he came to meet and wed Robert's mother—and the joy of that second family. Troubling the joy and contentment of this, though, is the reappearance, after twenty years, of his friend, Prebyterian minister Rev. Boughton's wayward son, Jack.
To say that Robinson manages to get into the shoes and mind of her elderly preacher-hero would be a major understatement. Her ability to find the voice of the scholarly minister and his Presbyterian friend attests to a knowledge of Judeo-Christian theology that sent me scurrying to the internet to find confirmation that she has not only studied the Bible and the great theologians such as Calvin but has delivered sermons from the pulpit herself. The puzzling questions that arise from considerations of faith, Biblical doctrine, human nature and interactions inform Gilead and its sequels. I have to admit that, at times, I felt rather like Lila, Ames's unschooled wife, struggling to make sense of a some of the theological discourse.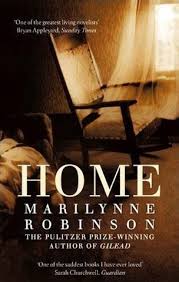 In the follow-up novel to Gilead, Home (Farrar, Straus & Giroux, 2008), Rev. Boughton's daughter Glory, who has returned home in her late 30's to look after her ailing father, emerges as a tender companion to her black-sheep brother, Jack, who has also returned home—for a while. Home articulates the subtle, shifting dynamics between these two—the youngest sister and an older, distant brother who never really bonded as children—and an indulgent father slipping into senility. Great over-arching themes of judgment and redemption play out against bits of everyday life—preparing meals, weeding gardens, doing laundry, visiting neighbours.
            Lila (Farrar, Straus & Giroux, 2014), the last of the trilogy (or perhaps the latest of a continuing saga), tells the story of the young woman who became the elderly minister's wife. It is a hair-raising tale of life on the road during the 1920s and then the darkest days of the depression with Lila, as a child, being kidnapped and then tended by Doll, a scarred but caring guardian who is quick with a knife. Neither Lila nor Ames can quite believe they've found each other—and much of the tension in the narrative has to do with this her sense that abandonment and flight may well be present in this new hand of cards, and his sense that she may well disappear on him as suddenly as she came, seeking shelter from the rain during one of his sermons.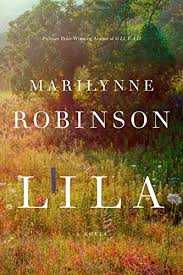 My grandfather, Oren Daily, grew up in Iowa and I recall his stories of being a child in the cornfield country of the midwest. Thank you, Marilynne Robinson, for bringing me back to that territory, again in story.
Gone With the Wind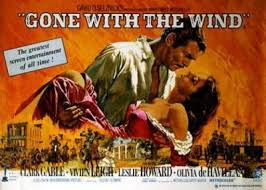 I know—can anything be written about Gone With the Wind that hasn't already been written? Actually—yes. There is always our own personal engagement with a book and film that continues to seduce readers and viewers with its tale of a self-centered hoyden who survives and thrives during a war-torn time and its aftermath.
I'm not sure just why this tale should have captured a kid growing up in a little backwater town in Alberta in the 1950s—but it did. It was my aunt Orene who introduced me to the story. More of an older sister than an aunt, she was reading a movie edition of the book when I was ten years old and she was sixteen. A compulsive storyteller, she retold the Margaret Mitchell narrative in great detail (mispronouncing "Melanie", I remember, as "Mi-lainie"). We pored over the few stills from the movie included in the book and wondered if we would ever have a chance to see it. It took a few years, but finally it was re-released and we made the trip into St. Paul where movies played throughout the week at the Elite Theatre—not just on Saturday nights at the Legion Hall.
By this time I had read the book myself and was enthralled with the film—although Orene and I both thought that Leslie Howard was a bit old to portray the Ashley we had envisioned, and Olivia de Havilland as Melanie appeared as strong as a horse while Vivien Leigh as Scarlett seemed as frail as she was beautiful (contrary to their descriptions in the Mitchell novel). Clark Gable, Hattie McDaniel, Butterfly McQueen and Laura Hope Crews—perfect casting in our estimation!
Orene and I often were assigned the task of washing up after dinner at my grandparent's—using dishpans of heated water on their wood-burning kitchen cook-stove. I recall many times acting out our favourite scenes from the movie as the fire died and the dishwater got colder and colder. We fought over who got to play Prissy—although Aunt Pittypat with her fainting spells was also very popular. I could do a fair imitation of Melanie's moans in the scene where she gives birth. Our drama marathon generally came to an end with my grandmother storming into the kitchen and declaring that if she heard one more "De Yankees is comin'" before the dishes were dried and put away, there would be consequences we wouldn't even want to consider.
Over the decades, I have seen Gone With the Wind countless times—to the point where I know most of the dialogue by heart. I believe I have read every book (and there have been many) about the making of the movie. Intrigued as I have been with costume design, I think I could faithfully re-create Walter Plunkett's antebellum gowns. The performances continue to astonish me. Somehow the principal actors seem to absorb the texture and feel of the novel. I think they pretty well knew the book by heart (although, apparently Leslie Howard refused to read it). Since first seeing the picture, I have been in love with Vivien Leigh—something of a Scarlett in her own life. And, with time, I have been more forgiving of sturdy Olivia de Havilland's depiction of Melanie—it is a luminous and nuanced performance, deserving of the Oscar nomination she received.
I speak of these actors as if they were still alive. To me they are, for as long as I can pop a disk of Gone With the Wind into my DVD player. (And, of course, Olivia is still alive—celebrating her 100th birthday this month.)