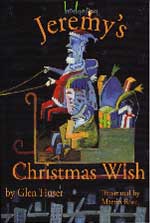 Books | About the Book | Synopsis | Questions & Activities
I have always loved Christmas and Christmas stories in particular. While I was working as a teacher-librarian in an elementary school in Edmonton, one of the large food-store chains presented a competition for an original Christmas story to publish in their newsletter. A fan of Charles Dickens' A Christmas Carol, I began thinking of writing a tale with some parallels. Instead of a miserly, mean old man, what if the central character was a pampered rich kid in today's world who always gets everything material that he might wish for? But he has no friends. In a few days, I'd completed the story and sent it off. A couple of weeks later the manila envelope with the manuscript enclosed came back. There was a nice rejection slip, though, indicating the judges had really liked the story but it was much too long for their newsletter.
For many years that followed, I pulled the manuscript out at Christmas and read it to schoolchildren and the children of family and friends gathered around our own Christmas trees at home. In the 1990s I worked as an editor for a series of early chapter books and when Hodgepog, the publishing company, moved from Edmonton to Vancouver where there would be a different editor working with the material, I sent the manuscript for them to look at. They liked the piece and agreed to publish it.
At one point I had begun working on some illustrations for the story, but I knew I wouldn't have time to work up an entire series of pictures for the proposed publishing schedule so I tucked these away. Martin Rose, a teacher of film animation at Emily Carr Institute of Art & Design in Vancouver, was brought on board, creating stylized ink sketches that have a scratchboard feel to them. I introduced the book to a Christmas gathering of the Children's Literature Roundtable of Edmonton to a warm reception – and have read aloud from the short novel as a guest at a number of Christmas book galas following its publication.
This is a book I usually share with classes in grades 2 to 4 during school and library visits – often working an illustration demonstration (using one of the schoolboys as a model for Jeremy) into my presentation.
Hodgepog no longer exists as a publishing company, so contact the author directly for copies of this paperback book. ($5.95 plus shipping. Email your order to: glenhuser@shaw.ca indicating the number of copies you would like. Be sure to include your full mailing address. A bill will be included in the package.)