Books | About the Book | Synopsis | Questions & Activities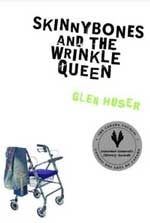 For several years I worked as a teacher and school board consultant in Edmonton. I remember being intrigued by a project some schools undertook in which students were matched up with seniors in nearby seniors' centers. My mind is always on the search for interesting possibilities and I began toying with the prospect of what might happen if a junior high girl with a lot of attitude was matched up with a cranky, eccentric senior.
Something else that had kept surfacing in my thoughts was a trip I had once taken with friends to Seattle in which we attended the full cycle of Wagner's Ring operas. It was a wonderful trip and we ended up lodging in a bed and breakfast with loads of character run by a gay proprietor. Experiencing the lengthy operas from day to day — the spectacle on stage, the incredible music, the motley crowd of opera-goers, picnic lunches outside during intermission, watching the sun set over Puget Sound – all unforgettable! The thought of capturing this in a young adult novel seemed unlikely (how many teens are into opera?) until a scenario began to take shape in my mind built on the particular passions of the junior-high girl and her senior "buddy." What if the senior were an impassioned opera fan, no longer deemed able to travel to something such as the Seattle Ring cycle?
And the teen? What if her passion was to become a fashion model? For a while in my own younger life I had considered becoming a fashion illustrator and had immersed myself in that world, developing a portfolio of designs. But the prospects for a fashion illustration career looked thinner and thinner to me the fatter my design portfolio became and I chucked the project and went back to university to upgrade my teaching certificate instead. But a dream such as this never totally evaporates and I found myself slipping easily into the character of this teen with her own focused drive to enter the world of fashion and modeling.
So…I ended up putting these two together on a road trip from Edmonton to Seattle and then Vancouver. Right from the start, it made sense to present the novel in two voices, alternating chapters between the teenager and the senior – Skinnybones and the Wrinkle Queen (as they privately nickname one another).
The novel had only been out for a few weeks when I received a phone call from the Canada Council letting me know this book too had been nominated for a Governor General's Award in Children's Literature. An honour indeed. It didn't win the top award but I cherish the silver-medal designation. And it's my only novel so far to be translated into other languages – Korean and French.
Skinnybones and the Wrinkle Queen is available from Groundwood Books. Ordering information is on their website: www.groundwoodbooks.com
Also available from:
Amazon
Chapters
Barnes & Noble

The book is recommended for readers in grades 6 to 9.