Books | About the Book | Synopsis | Questions & Activities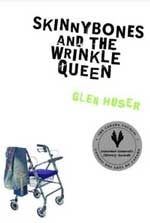 1. In what ways are Tamara Tierney and Jean Barclay alike?
2. Do most people have particular preoccupations or "passions" that provide focuses in their lives – or do you think Jean Barclay's love of opera and Tamara's obsession with fashion and modeling are unique qualities?
3. Comment on Jean Barclay's rationale for the lies the two will be involved in as they 'run away': Wagner knew…he lets us glimpse the other world. And what do we see? The reflection of the earth and humanity with all of its spectacle and follies. And glory. The stories we come up with will be…small coinage compared to the currency in which the immortals deal. Do you believe these two have any justification in their deceits?
4. Are there themes in Wagner's Ring operas that echo in Skinnybones and the Wrinkle Queen?
5. What parallels do you see in Charles Dickens' Great Expectations which Tamara is reading for a literature assignment in school?
6. What parts of the novel made you laugh? Comment on these.
7. Were there any parts that touched you in a serious way? Comment on these.
8. Can you visualize the novel being made into a film? Who would you cast in the principal roles?
Activities
1. On road maps of Alberta, British Columbia and Washington, trace the journey that Tamara and Jean Barclay make. Use the maps as the basis for a bulletin-board display, attaching pictures (and possibly some real objects) that connect to key points along the way. (Make use of the Internet, travel brochures and magazines, etc.)
2. Research to find out what you can about the Seattle Opera and tourist activities in the city. Prepare a presentation that presents a few short text passages from the novel connected to material you've found about the Seattle area. (Or…do a similar project with the Vancouver part of the story.)
3, Listen to some passages from Wagner's Ring Cycle of operas. Choose a favorite passage to present. Tell why you like it – and how the passage fits in the story of that particular opera.
4. Create a fashion illustration showing Tamara in one of her outfits.
5. Create an illustration depicting Jean Barclay.
6. Create an illustration – or a diorama — showing the Butterfly Room at the bed and breakfast (or the exterior of the building and the garden).
7. With others, develop a skit based on a part of the novel you liked.