Books | About the Book | Synopsis | Questions & Activities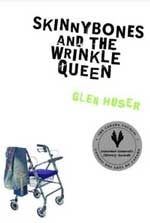 Tamara Tierney isn't thrilled over the prospect of being placed in yet another Edmonton foster home but she agrees, at her social worker's urging, to put more effort into making the placement work. Actually, things aren't too bad at the Shadbolts with Shirl and Herb and their two chubby gremlins, Lizzie and Lyle. A bonus is that everyone is gone during the day so it's possible to play truant at least a couple of times during the week to catch the fashion shows on TV – essential viewing for someone determined to become a model.
Tamara has missed the introductory session preparing her grade nine class for an excursion to the Sierra Sunset Seniors' Center but, in the process of alternating the afternoons she plays truant, she's present the day the class is headed over to the Center. Her teacher provides her with a gift of hideous purple knit slippers to give to the senior with whom she's been "buddied." Meeting an ancient, mean-looking woman in a bright red dress and a flashy brooch, Tamara mentally dubs her "the Wrinkle Queen."
Jean Barkley, after a restless night at the "Triple S Ranch," decides on her own private moniker for the tall student buddy with outrageous clothes and magenta hair caught up in clips: "Skinnybones." Tamara helps her set up her walker and, as they take an excursion away from the community room, the gift of the wretched slippers gives them both a laugh. In a way, Jean Barkley decides, she won't mind seeing this girl again.
Following classes that day, Tamara heads over to a promotion for a modeling agency she's read about in a brochure. Brad, the representative, gives her details about courses being run in the summer in Calgary and Vancouver. Tamara wonders where she might ever get the $2500.00 she'd need – and that's when the thought of the bejeweled Miss Barkley flashes across her mind.
Jean Barkley flares up at the teen when she next visits and brings the brochure. But then a plan begins to hatch in the old woman's mind. Seattle, scheduled to present Wagner's Ring Cycle of operas the coming summer, is within easy driving distance of Vancouver. Over the years, Jean Barkley has lived for opera but recent surgeries have made it impossible to drive (although she still has her license) – and her nephew and the Center would discourage her embarking on such a trip at her age and in her condition.
The two conspire to run away together. Tamara will serve as Jean's companion to the opera week in Seattle; Jean will put up the money for Tamara's modeling course in Vancouver. Letters are written, tickets ordered, cover-stories planned, dresses purchased (as well as a good supply of the Wrinkle Queen's essential cigarillos and brandy) – and Tamara talks Herb into giving her driving lessons so she can get her learner's permit.
The road trip in Jean Barclay's candy-apple red Buick is something of a trial for both of them. But, once ensconced in their bed and breakfast in Seattle, Jean enjoys being fussed over by Ricardo, the gay proprietor – and Tamara doesn't mind the attention either. As the opera week progresses, Ricardo discovers what the two are up to but agrees not to contact Edmonton.
In Vancouver the following week, Tamara begins her course in a church basement in the English Bay area while Jean rests up in an old waterfront hotel that's always been a favorite of hers. Tamara is befriended by Christophe, a fellow student, who tells her that there's been a picture of her on the local TV news along with details of an elderly woman and her red Buick also gone missing. A smitten Christophe agrees to keep mum so Tamara can at least finish her course. On a rainy morning, Tamara borrows the Buick (without asking) to drive to class but forgets to lock it and discovers, at noon, that the vehicle's been stolen. Angry as a hornet, Jean takes a taxi to a salon to get her hair done. Heading from the salon to an adjacent bar to get a drink, she stumbles against a planter, falls, and is rushed to St. Paul's hospital.
That same afternoon, police arrive at the modeling school to pick Tamara up. She is devastated when she finds, along with the police, that Jean is in an emergency ward and will need to have revision surgery on her wrecked knee. Back in Edmonton, it looks like Tamara will be moved, once again – but this time to a group home. Herb and Shirl can't bear the thought, though, and agree to take her back. Juvenile court puts the teen into a mandatory counseling program and sentences her to community service for several hours a week at the senior center.
When Jean Barclay returns to the center, Tamara brings her some flowers and the Wrinkle Queen wistfully mentions to Skinnybones that there is a wonderful opera festival each summer in Santa Fe.
"Is it far from L.A.?" Tamara asks.
"You could probably drive it in a day or two," Jean Barclay replies.