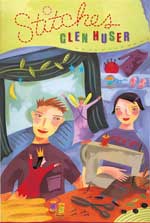 Books | About the Book | Synopsis | Questions & Activities
While Touch of the Clown developed from speculation about what might happen if a friend of mine, a clown actor, encountered a couple of neglected kids while he was living in Edmonton, Stitches evolved from a growing concern I'd been feeling about children – and older people too — being bullied. I was aware that boys who have a girlish side to them are often the victims of bullying, so I decided to build my narrative around a teenage boy in a small Alberta town who has always loved to play with puppets, creating puppet characters and sewing costumes for them.
Travis's experiences are drawn a bit from my own experiences as a teen who was more interested in writing stories and drawing fashion designs, playing the piano or curled up with a book, than being out playing hockey or baseball. I think the idea for the puppetry came from knowing that Alberta's internationally-renown puppeteer, Ronnie Burkett, had begun as a teen putting on puppet shows in the towns where he lived.
It's exciting to be in the process of developing a cast of characters for a book. In my own experience, my Aunt Orene had been an important figure as I was growing up. Just six years older than I, she was more like an older sister. We spent countless hours painting and drawing, often creating costumes for paper dolls (she had a massive collection of these). I found myself inhabiting Travis's caregiver aunt, Kitaleen, with Orene's own spirit – and ended up dedicating the book to her and her sister (my mother).
Shortly after the novel was released, I received a call from the Canada Council in Ottawa informing me that Stitches had been shortlisted for a Governor General's Award in Children's Literature. The book had been receiving some good reviews, including a starred review in Horn Book, but the nomination was totally unexpected – I had no idea that my publisher had even submitted a copy for the awards committee to look at. I was on pins and needles for a few days and then a follow-up call from Ottawa let me know that the book was indeed this year's winner. It was my academy-award moment! I wasn't allowed to tell anyone, though, until the official announcement a few weeks later in Ottawa. My trip to the nation's capitol involved a couple of events at Rideau Hall where Governor General Adrienne Clarkson was in residence. I think my favorite part was receiving a specially-designed leather-bound copy of the novel (with a puppet motif) from Clarkson herself. That year, the book went on to win Alberta's R. Ross Annett Award for Children's Literature.
In 2008, Victoria School of the Arts chose the novel as their annual film-making project. Steve Ashworth, head of Victoria's film department shaped the movie, primarily with student actors, and premiered the film at the school's theatre in January, 2009. I was able to attend the screening and enjoyed seeing the results of the countless hours of hard work and great talent that went into its creation.
Stitches is available from Groundwood Books. Ordering information is on their website: www.groundwoodbooks.com

Also available from:
Amazon
Chapters
Barnes & Noble
The book is recommended for readers in grades 6 to 9.
Acceptance Speech – Governor General's Literary Award for Stitches
When my grandmother's eyesight began to fail, she would rely on my uncle Glen to thread a needle for her. She still sewed well into her 80's, stitching patchwork quilts, re-attaching buttons, mending the torn fabric of a shirt, darning stockings, fixing the rip in a great-grandchild's rag doll.
I never developed the skills she had with stitchwork. True, I can sew on a button, although I'm apt to lose it before I get around to doing it. But I sense sometimes that the way in which she worked with cloth and a needle and thread, almost intuitively, searching for and finding the pieces that fit, marking connections, assembling, stitching, has been passed on to my fingers in a different and yet very related way as I too search for the pieces that fit, and craft the design.
What are those pieces in the novel being honored here today? Perhaps one piece is textured with the words of poetry and stories my mother gave all her children as a bedtime gift and a lifetime legacy. There is a piece woven from the tales I went on to discover and love – tales such as Peter Pan and A Midsummer Night's Dream. Somewhere, I put my hands on the fabric of costumes my aunt Orene would bring out, like magic, from cartons of discarded clothes and old curtains, costumes for the impromptu backyard plays we'd put on with all my siblings and my cousins who happened to stray by. And look – here is a bit that I can hardly touch for the longing and remembrance it brings of my own childhood best friend, a girl called Marilyn. The two of us took on the world.
Are there dark patches? Yes, but fortunately few of these have come from my own personal experience. I weave and stitch from headlines: the bullied teen who takes his own life, the young man beaten and left to die on a fence along a deserted Wyoming highway, a Metis boy marking an act of violence against him by letting his blood seep into the hard ground behind and Edmonton junior high. These are not from my life – and yet they are from the lives of all of us who believe that we are each other's keepers.
Today I thank you for taking what I have stitched together – all these pieces – and holding the product up for everyone to see. I couldn't feel more honored.