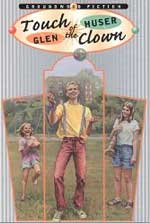 Books | About the Book | Synopsis | Questions & Activities
Thirteen-year-old Barbara Kobleimer is not looking forward to the summer holidays. At least when school is on, she gets a bit of a break from looking after her little sister, Livvy, who needs a lot of attention. At a neighborhood park in a rough section of the city where they live, Livvy finds an old rubber ball which she proceeds to bounce and chase as they head home. Darting into the street after the ball, she is struck by a man riding a bicycle. The man persuades Barbara to bring the tearful Livvy to where he lives nearby (at least to the yard) so he can administer band-aids. He introduces himself as Cosmo Farber, a clown actor and, before the girls are ready to continue home, he intrigues Barbara with the possibility of attending a summer workshop he's providing for teens at a downtown theatre.
Barbara quickly realizes that her dad and Grandma Kobleimer (who she thinks of as the 'TV zombies' as they swig sherry and watch old movies throughout the day) are not going to support her going to the workshop. She forges her dad's signature on the application form, though, when she finds out that the program is offered free to needy students – and Cosmo has found a spot for Livvy in a children's art workshop across the road. Pretending they are simply heading out to the park each day, things go well until the morning Barbara's group is on a field trip and Livvy, who doesn't always manage to get to a bathroom on time, has an accident and runs home by herself. When Barbara gets home, she is beaten by her father. Seeking Cosmo out, he insists that the police be contacted. Barbara reluctantly agrees. She has the additional worry of seeing Cosmo, who has AIDS, succumbing to a bout of pneumonia.
The children are placed in a foster home. With the help of Nathan, a metis boy she befriended at the workshop, she sneaks away from the house to visit Cosmo in the hospital, only to find him very close to death. Her social worker takes her to Cosmo's funeral where she meets his sister and finds out he has left her and Livvy a box of his favorite books from when he was a young person. Following a visit from her father, Barbara realizes that foster care is likely going to be a continuing reality for her sister and herself. But she has a legacy of more than Cosmo's books, and decides to move on as best she can with her life and nourish the desire, still stirring, to become an actress.