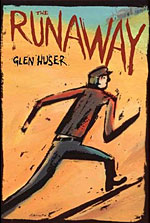 Books | About the Book | Synopsis | Questions & Activities
As a child, I found I could spend many hours poring over the contents of a trunk in which my grandmother kept many of the treasures of her lifetime—photos and letters, old calling cards and picture-postcards, the christening gowns of babies long since grown to middle age, buttons and belt-buckles and bits of lace, dress patterns, locks of hair tied with ribbon. One item in particular caught my fancy, a poster which, when you unrolled it, announced the repertoire of my grandfather's half-brother, Robert H. B. Tremain, an actor with the Chautauqua and Lyceum circuits. The family knew him as Ben, but on this poster, his name had taken on some embellishments befitting a performer of note. There were a number of photographs on the poster. Beneath a studio photo showing him in his regular dress of a natty suit, stiff collar and tie, were several pictures of him in the guises of the characters he portrayed on stage—an ancient man with a long white beard, a Highlander, an Indian with a full headdress, and even an old lady. I was a child who could spend a good deal of time living out of a costume box so the fact that someone in my family had managed to do this for a living intrigued me no end.
We have a letter from Great-uncle Ben, written from Kentucky when he was on the Lyceum circuit in 1912, in which he expressed how much he missed his parents and his brothers, who had moved to Canada and settled in Alberta, as well as his own wife and daughter in Sioux City, Iowa. It was the last letter the family received. Robert H. B. Tremain mysteriously disappeared and was never heard from again. He was something of an adventurer, as ready to strike out and go prospecting for gold or join a hunt as appear before the footlights of a Chautauqua stage. Perhaps he tried his luck prospecting in Mexico, where, during this time of turmoil, he might have been killed. No real hint of what actually happened to him has ever surfaced.
It was Tremain's Chautauqua poster that spurred me to write the story of Doodle and his summer with the Chautauqua circuit, and, in it, I pay homage to Robert H. B. Tremain by inviting him to materialize as Maggie's father. I can't help thinking he would have enjoyed the chance to be under the canvas of one of the big tents again.
The Chautauqua tent shows that travelled from town to town throughout the United States and Canada in the early decades of the twentieth century grew out of the Lyceum movement that thrived in the latter part of the nineteenth century. It was a movement dedicated to bringing culture to Americans who had little access to educators and entertainers. Carl Sandburg, Booker T. Washington and Mark Twain were among the Lyceum's speakers. In 1904, the idea of taking such week-long shows to small towns by using tents and daily programs that rotated from one place to the next over the period of week was given a trial run. The circuits chose the umbrella name of "Chautauqua," from the New York Chautauqua Institution, which offered summer-long programs on theology, literature, science and the arts—a model for what the travelling tent shows were aiming to do. The circuits grew in popularity, especially as the programs expanded to include an increasing variety of entertainments—bands and popular singers, opera soloists, magicians, ventriloquists, plays, character impersonators, and comedians.
Chautauqua programs in each town relied on a good deal of involvement from the town populace. A Chautauqua Committee of locals, working with a Chautauqua advance agent, had to gather pledges and guarantee the cost of putting on the program. A junior program, run by a Chautauqua "story lady" or "junior girl," involved the children of those attending, often culminating in a pageant to be put on in the big tent at the end of the week.
As movies grew in popularity in the 1920s and radio became a staple in more and more homes, the Chautauqua circuits faded away.
The geography of the Chautauqua circuit in The Runaway is fictional. So are the performers and acts for the shows, but these, of course, are shaped from a study of what someone in a Chautauqua audience might expect to see and hear in 1923. (From The Runaway – Author's Note)
The Runaway is available from Tradewind Books: www.tradewindbooks.com
Distributed in Canada by Fitzhenry & Whiteside: bookinfor@fitzhenry.ca
Also available from:
Amazon
Chapters/Indigo
This book is recommended for students in grades 6 to 9